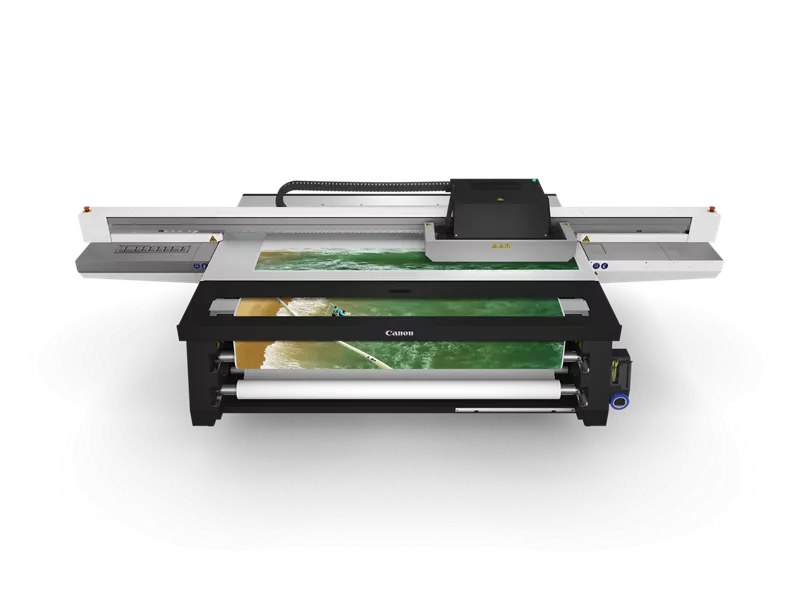 True stationary flatbed versatility at an affordable price
Choice of FLOW technology (GTF/XTF) or classic vacuum (GT)
Roll Media Option available for true roll-to-roll capability
Available in 4- 6- or 8-channel models that include support for CMYK plus White, Varnish and light Cyan and light Magenta inks
Near-photographic image quality
Instant-on printing and instant switching between roll-to-roll and flatbed printing
Support for PRISMAguide and PRISMAelevate XL software for quick and easy creation of complex higher margin jobs including texture printing
The Arizona 1300 Series – Bring it On!
Building on the Arizona 1300 series, the first series in the Arizona family that delivered an instant-on LED-UV curing system, the updated Arizona 1300 series now also offers FLOW technology.
Originally introduced in the Arizona 2300 series, FLOW technology eliminated the need for first masking and taping the flatbed table before starting most jobs, thereby significantly reducing the set-up time required before being able to print.
With the implementation of FLOW technology, we are now offering nine different models in the Arizona 1300 series family.
The smaller 4'x8′ models will offer a choice of FLOW or the classic vacuum system while the larger 8'x10′ models will only offer FLOW technology. Both formats will support a Roll Media Option.
The Arizona 1300 enables you to produce an exceptional range of applications. Available with your choice of 4, 6 or 8 ink channels you can also start with a 4 channel Arizona 1340 or 6 channel Arizona 1360 and later upgrade as your business needs evolve by adding 2 additional ink channels – up to a maximum of 8. Besides CMYK, these extra ink channels support our brightest white ink ever and an optically clear varnish. The 8 channel Arizona 1380 adds additional support for light cyan and light magenta for enhanced image quality.
Do more!
Featuring a true flatbed architecture for high quality, versatile printing on rigid substrates up to 2 inches thick, the stationary table design of the Arizona allows printing onto irregular shaped items without requiring any special jig. Due to the extreme table flatness, the Arizona image sharpness is consistent everywhere on the table surface. Coupled with the excellent dot placement accuracy this means we can print a drop of ink on top of a drop of ink and produce texture. The PRISMAelevate XL software (formerly Touchstone) was developed exactly to take advantage of this feature and makes file preparation and printing of texture extremely easy.
Adding a Roll Media Option further expands the application range allowing you at the push of a button to switch from flatbed printing to printing on roll media up to 86 inches wide.
Do it smarter!
The PRISMAguide XL software (formerly Arizona Xpert) turns complex job setup into a quick, effective process. The self-learning capability within PRISMAguide XL can learn your steps to setup multi-layered, complex jobs – even double-sided jobs or jobs with transparency. Then, you can save the steps as a recipe and later apply that recipe to any similar jobs.
Do it now!
The instant-on capability of the LED-UV curing system means you don't have to spend any additional time waiting for lamps to warm up. Simply walk up and begin printing.
FLOW technology does away with zones and masking and taping for most jobs allowing you to place substrates anywhere on the table and begin printing.
Rigid media handling is also benefited by pneumatic registration pins on three sides of each 4'x 8' print area that allow you to position a board accurately and repeatedly on the flatbed table and quickly print double-sided jobs with ease.
With the Roll Media Option, switching between roll and rigid print jobs can be done at the push of a button with no extra tables to set-up or store away.
Time spent doing maintenance is also minimized thanks to the Automated Maintenance System for hands-free printhead maintenance that can selectively restore nozzle functionality in seconds.
Technical Specifications
Main Unit Specs
Rigid Media Size
1300 Series GT/GTF – 49.2″ x 98.4″
1300 Series XTF – 121.3″ x 98.4″
Rigid Media Thickness
2.0″
VariaDot printing technology
6 to 42 picoliter droplets, 636 nozzles, one printhead/channel, single row design
High Key Print Speed
1300 GT/GTF – 547.9 ft2/hr.
1300 XTF – 568.3 ft2/hr.
Ink Channels
1340 Series – 4 ink channels upgradeable to 1360 for 6 channels
1360 Series – 6 ink channels upgradeable to 1380 for 8 channels
1380 Series – 8 ink channels