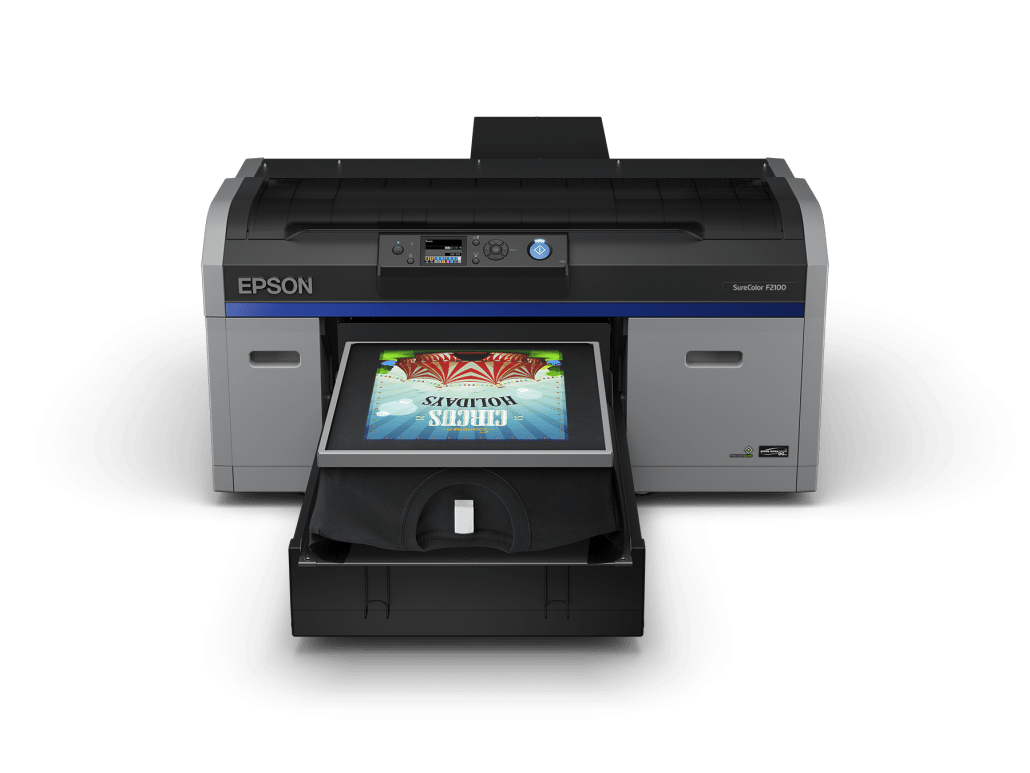 Designed exclusively for direct-to-garment printing, the SureColor F2100 offers an entirely purpose-built system for high-quality outputs at production speeds. Building on the market-leading SureColor F2000, the SC-F2100 delivers many new key benefits to your end-customers:
Reduced Maintenance Time and Operational Cost – Featuring a fabric wiper and an in-line cleaning cartridge, the integrated self-cleaning system allows the printer to perform daily maintenance to reduce downtime.
Up to Twice as Fast – Newly developed print modes, including Light Garment Mode, offer consistent print quality at up to twice the speed of the previous generation.
New Print Modes – Developed exclusively for the SureColor F2100, Highlight White Ink Mode unique feature offers simultaneous printing of White and color inks on the color pass for greatly improved image quality, speed, and efficiency.
Intuitive Workflow – Improved Epson Garment Creator Software, available for macOS® and Windows®, includes powerful tools for layout and text, color management, ink control, cost estimation, plus hot folders.
High-quality direct-to-garment printing — Epson® UltraChrome® DG Inks are durable, vibrant and safe, with outstanding color performance, plus equal pricing for color and White inks


Up to twice as fast — Epson F2100 direct to garment printer has newly developed print modes, including Light Garment Mode, offer consistent print quality at up to twice the speed of our previous generation


Highlight White Ink Mode — developed exclusively for the SureColor F2100, this unique feature offers simultaneous printing of White and color inks on the color pass for greatly improved image quality, speed and efficiency


Fast loading for more productivity — the easy-to-use, all-new quick-load grip pad reduces traditional hoop platen load times


Intuitive, easy-to-learn workflow — improved Epson Garment Creator Software, available for macOS® and Windows®, includes powerful tools for layout and text, color management, ink control, cost estimation, plus hot folders


Designed exclusively for direct-to-garment printing — an entirely purpose-built system featuring Epson's PrecisionCore® TFP® printhead, Epson UltraChrome DG ink system and robust hardware


Reduced maintenance time and operational cost — featuring a fabric wiper and an in-line cleaning cartridge, the integrated self-cleaning system allows the printer to perform daily maintenance to reduce downtime